Oakville Animal Clinic
Establishment and veterinary care at 218 Kerr Street, Oakville, ON L6K 3A8, Canada. Please contact Oakville Animal Clinic using information below: address, phone, fax, email, opening hours, customer reviews, photos, directions and more.
Opening hours
| | |
| --- | --- |
| Sunday | 11:00am — 02:00pm |
| Monday | 08:00am — 08:00pm |
| Tuesday | 08:00am — 08:00pm |
| Wednesday | 08:00am — 08:00pm |
| Thursday | 08:00am — 08:00pm |
| Friday | 08:00am — 08:00pm |
| Saturday | 08:00am — 05:00pm |
X
Photos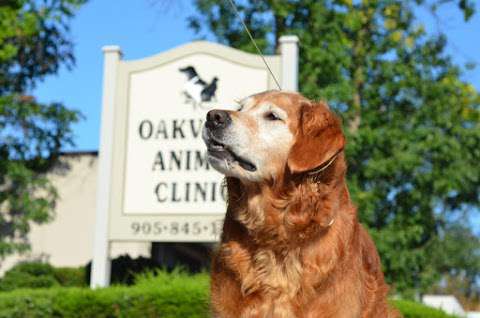 Reviews of Oakville Animal Clinic
Steve Stall Added 2018-11-02

★ ★ ★ ★ ★

The staff and the Doctors are caring, compassionate, knowledgeable and always willing to talk to you about your pets, their care and their health. Have been taking my fur family there for over 20 years.

D Baggetta Added 2018-10-31

★ ★ ★ ★ ★

The staff is always friendly and helpful and the doctors have extensive experience and knowledge about pets. I like them because they cater to my pets first, me second.

Adelina Bozek Added 2018-10-08

★ ★ ☆ ☆ ☆

Despite Dr. Miu being extremely understanding, kind, and attentive, our entire experience at this clinic was super disappointing. I see the high reviews and believe them, but whatever happened with our dog was 100% disturbing and wrong. We came in with our Boston terrier Albert, on April 2nd 2018. He was showing vague symptoms of fever and had hair peeling off his face. It was diagnosed as a skin infection and he was prescribed an antibiotic. After being on this antibiotic for about 10 days with ZERO improvement, it was suggested he may have cutaneous lymphoma on April 13th. The biopsy returned negative and we were told to continue him on the antibiotic despite the fact there still was no improvement. He was getting regular checkups at this time and finally they decided to culture the bacteria on April 23rd which we were told is quick- it took about 10 days because the lab was having staffing issues. Not our problem. During these 2 weeks Albert was not on antibiotics and getting significantly worse. The results finally came back on May 2nd showing resistance to every medication. Great, no antibiotics for Albert. I was told if it came back negative, they'd put together a combination of drugs and see if they could eradicate it. That never happened, instead, they decided to reculture on May 4th and the results came back on May 9th . This time it showed sensitivities to multiple medications- this makes a lot of sense

Tarek Charif Added 2018-08-13

★ ★ ★ ★ ★

Really caring staff and an amazing doctor. It shows. Best in town.

Amanda Brindle Added 2018-08-11

★ ★ ★ ★ ★

My dogs walk by here every morning and try to pull me in to say hello. Warren is an amazing surgeon who helped make my previous dog's last few years comfortable and happy. Dr. Miu is not only a sweetheart, she's incredibly thorough and obviously loves her patients like they were her own. Friendly and competent staff who are extremely knowledgeable and can answer any questions you might have. They also have a great selection of vet recommended food, treats and specialty shampoos. Great hours as well.
About oakvilleanimalclinic.com
Oakville Animal Clinic | Animal Hospital | Oakville Veterinarians| Dogs | Cats | Rabbits and Small Mammals
Oakville Veterinary Hospital serving companion animals including medicine, surgery, spay and neuter, wellness, vaccination, laser therapy, dentistry, behaviour -- dogs, cats, rabbits, pocket pets, birds and exotics. New Patients welcome.Please call with any inquiries and or make an appointment 905 845 1234
Oakville Animal Hospital, Oakville Vet, Veterinarian, Oakville Animal Clinic, Pet Hospital, Vet Clinic, Oakville Vet, Spay, Neuter, Animal Hospital, Vets in Oakville, Dentistry, Surgery, Medicine, Wellness, Vaccination, Animal, Facebook, Vet in downtown Oakville